Our Clergy
His Grace, Bishop Gregory of Nyssa, Diocesan Bishop
Voice: (814) 539-9143
Email Bishop Gregory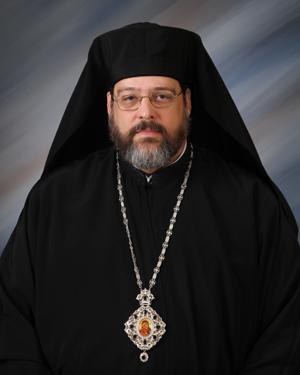 His Grace, Bishop Gregory of Nyssa, is the spirtual leader of the American Carpatho-Russian Orthodox Diocese, which maintains offices at 312 Garfield Street, Johnstown, Pennsylvania, 15906.
His Grace, Bishop Gregory was consecrated as Bishop and enthroned as the Ruling Hierarch of the American Carpatho-Russian Orthodox Diocese of the USA on November 27, 2012.
His Grace celebrates his Name's Day (St. Gregory Palamas) on November 14/27.
Under His Grace's care is our Diocesan Christ the Saviour Seminary, also in Johnstown, Pennsylvania, which trains future priests and deacons of our Diocese. In addition, the Diocese maintains Camp Nazareth Youth and Retreat Center in Mercer, Pennsylvania.
Bishop Gregory also serves as Episcopal Liaison to the Orthodox Christian Fellowship and Chairman of Committee for Agencies and Endorsed Organizations of the Assembly of Canonical Orthodox Bishops of the United States of America.

Very Reverend Father Michael T. Chendorain, Presiding Priest

Office: (732) 826-4442
Email: fmchendorain@gmail.com
Fr. Michael T. Chendorain grew up in Holy Ghost Orthodox Church (Phoenixville, PA) and is the oldest of three children of Mike and Pat Chendorain. Throughout his youth he was an active member in the parish Jr ACRY, Sunday School Program as well as an altar boy since the age of six. After his high school graduation he attended Slippery Rock University where he earned a BS in Biology as well as minors in Psychology and Russian. It was while in college he met his future wife, Pani Melissa, who is from Beaver Falls, PA.
Father Michael served nine years as a staff member at Camp Nazareth in various capacities. He entered our Christ the Saviour Seminary in Fall of 1999 and graduated in Spring of 2002. In the summer of 2001, he accompanied +Metropolitan Nicholas as one of the youth members of the Diocese in the first-ever World Youth Symposium in Constantinople. In August of 2002, he and Pani Melissa were wed in Holy Ghost Church. Father was ordained a deacon a few weeks later and then ordained a priest on October 20, 2002.
His first parish assignment was to our Deanery Parish in Rockaway. Over the course of his tenure, the old rectory was refurbished, the parish hall was renovated into a banquet facility, the interior of the church was almost entirely renovated and a new rectory was built after a 30 year struggle. Father has traveled to New Orleans for Habitat for Humanity with the IOCC groups led by +Fr. Michael Rosco. He currently serves as the Editor of Daylight in the Church Messenger and is a member of the Diocesan Apostolate for Youth.
Father Michael was elevated to the rank of Very Reverend by His Grace Bishop Gregory on Pentecost Sunday, May 27, 2018. AXIOS!
Father and Pani have three children; Caeleb, Ethan and Claire as well as two dogs, Trinity and Kayson. Pani Melissa is a Doctor of Physical Therapy and works for Kessler Rehab managing two clinics in Parsippany and Morris Plains.
Fr. Proto-Deacon Gregory Benc
Sub-Deacon Andrew Wythe
Subdeacon Andrew Wythe was born and raised in Green Brook, New Jersey. He graduated Watchung Hills Regional High School in 2009. Afterwards, Sbdn. Andrew graduated from Rutgers University with a B.A. in American History and Sociology, and attended Christ the Savior Seminary in Johnstown, Pennsylvania, graduating in May of 2016. He currently works at Assumption Catholic School in Perth Amboy, New Jersey as the 5th through 8th Grade Social Studies teacher.
In Memory Of The Very Reverend Protopresbyter Michael Rosco
The Very Reverend Protopresbyter Michael Rosco, was pastor of St. John the Baptist Orthodox Church in Perth Amboy, New Jersey from 1992 till his sudden passing in May 2013. A native of Pittsburgh, Pennsylvania, he attended Christ the Saviour Seminary in Johnstown, Pennsylvania, where he graduated with a Bachelor of Theology degree in 1972. That same year, he married the former Susan Hreha of Homestead, Pennsylvania and was ordained to the Holy Priesthood in his home parish of St. John the Baptist in East Pittsburgh, Pennsylvania.
Father Michael served parishes in Stratford, Connecticut; East Chicago, Indiana and Windber, Pennsylvania. He also served as the Administrator of Camp Nazareth in Mercer, Pennsylvania for three years. Father Michael was assigned to St. John's in Perth Amboy in November of 1992. In addition to his pastoral duties, Father served as both the Dean of the New Jersey Deanery and Dean of the Washington DC Deanery of the Carpatho-Russian Orthodox Diocese. He was also a member of the Diocesan Consistory and Board of Trustees. Father was editor of The Church Messenger, the official publication of the Diocese.
Since 1997, Father Michael represented His Eminence, Metropolitan Nicholas on the Study and Planning Commission of the Standing Conference of Orthodox Canonical Bishops in the Americas (SCOBA). In 2005, he was appointed as the Diocesan representative to International Orthodox Christian Charities (IOCC).
Active in the local community, Father Michael was the Volunteer Coordinator for the City of Perth Amboy during their one-year Gulf Coast Relief Effort, which cared for some 40 families who had relocated to the Central Jersey town after Hurricane Katrina in 2005. Father Michael was President of the Perth Amboy Clergy Association. Father Michael is survived by his loving wife, Pani Susan. Their only son, Vladimir, passed away suddenly in November of 2013.
Chronology of Priests of St. John the Baptist Church
1. Reverend Alex Kaminsky — 1897 to 1898

2. Reverend Nicholas Steczovics — 1898 to 1899

3. Reverend Nestor Volensky — 1899 to 1900

4. Reverend Anthony Hodobay — 1900 to 1901

5. Reverend Anthony Kecskesz — 1901 to 1903

6. Reverend Alexius Novak — 1903 to 1906

7. Right Reverend A. Hodobay — 1906

8. Reverend Gabriel Csopey — 1906 to 1909

9. Reverend Eugene Homicsko — 1909

10. Reverend Gabriel Csopey — 1909 to 1913

11. Reverend Bartholomew Tutkovich — 1913

12. Reverend Victor Kovalicy — 1913

13. Reverend Peter Kustan — 1913 to 1921

14. Reverend Basil Lipeczky — 1921 to 1923

15. Reverend Alexander Papp — 1923 to 1931

16. Reverend Michael Lukats — 1931 to 1935

17. Very Reverend Ireneus Dolhy — 1935 to 1944

18. Reverend Dr. Joseph Mackov — 1944 to 1956

19. Very Reverend Protopresbyter Stephen Sedor — 1956 to 1992

20. Very Reverend Protopresbyter Michael S. Rosco — 1992 to 2013

21. Reverend Michael T. Chendorain — 2013 to Present